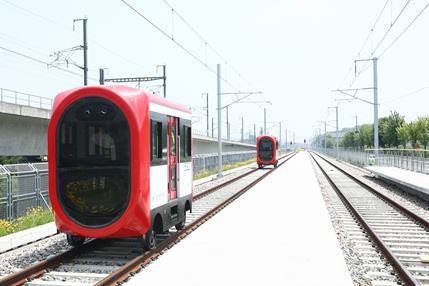 SOUTH KOREA: Korea Railroad Research Institute has announced the successful testing of 5G-based autonomous train control technology at its dedicated test track in Osong.
In January this year KRRI signed a technical co-operation agreement with SK Telecom to work on what it described as the world's first smart train control system using 5G communications through a public-private partnership. The test track at its New Transport Science Technopolis in Osong had been completed in 2019, and verification testing with two 'reduced' vehicles started in April.
The nine-year autonomous train development programme running to 2024 is being undertaken as a Big Issue Group project backed by the National Science and Technology Research Council of the Ministry of Science & ICT. The total cost of the project is estimated at 33·1bn won.
With normal centralised control, all trains continuously report their location to the control centre, which then determines how each train should operate and sends detailed traction and braking commands.
KRRI is instead looking to implement a distributed control method, with each train determining its own performance profile based on direct train-to-train communication and position reporting. It believes this could reduce the amount of lineside signalling equipment by up to 30%.
Interval control technology is designed to minimise the spacing between trains, automatically adjusting the safety margin to reflect the position and speed of the preceding train in real time whilst maintaining a safe braking distance.
The autonomous driving system allows the trains to share information such as routing, stopping patterns and running speeds, and to recognise, evaluate and respond to unusual situations in real time. Tests have also been conducted using technology which will enable the trains to set their own routes through junctions and crossovers.
KRRI says the use of 5G communications helps to reduce the transmission delay between trains, whilst improving both the data transmission capacity and reliability up to 20-fold compared to GSM-R. It estimates that use of train-to-train communications could reduce headways by up to 30%, to a minimum of around 60 sec. As well as enabling more efficient train operation, this would provide a much-needed increase in line capacity at peak times on the busiest routes.
Following the initial testing, KRRI team leader Jeong Rak-gyo said the next step would be 'to carry out additional tests such as rerouting technology for trains, and implement train separation and joining technology', as well as advanced control of train spacing and the train-to-track control and communications systems.
'This technology can reduce congestion during commuting hours and enable trains to operate more efficiently', explained KRRI President Na Hee-seung 'In the future, rail will be able to harness smart innovation for convenient transport, through the convergence of green and digital initiatives.'