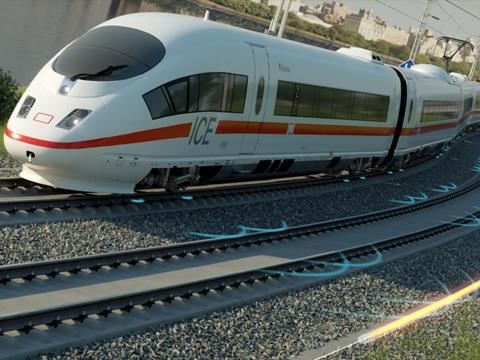 FRAUSCHER: Austrian train detection specialist Frauscher Sensor Technology launched its new Frauscher Tracking System in Berlin on September 19, ahead of InnoTrans 2016. FTS combines digital acoustic sensing with axle counter information to detect a wide range of activities along the track.
DAS works by sending a light pulse along an optic fibre cable 2500 times per second and detecting the back scatter from impurities in the fibre. Any distortion of the fibre caused by vibrations can be detected by changes in the light pattern. A single FTS unit can detect impacts to an accuracy of 10 m over a distance of up to 40 km.
FTS is designed to use spare capacity in existing fibres laid alongside railway lines to carry operational data or information systems. Because it uses light there is no risk of electromagnetic interference. However, DAS cannot differentiate between parallel tracks, so Frauscher has combined it with axle counter or wheel sensor data.
A very sophisticated algorithm is used to analyse the light signals and identify distinctive patterns. As well as providing real-time data about the position, speed and direction of a train, the system can detect other events through a library of vibration signatures, including flat wheels, bearing defects, broken rails or people walking on the right of way - whether railway staff or trespassers.
Frauscher has partnered with Fotech to provide the sensing technology, while it is developing the railway-specific applications. The company already has a live test site running at Allerding on the Passau – Linz line in Austria.
Frauscher CEO Michael Thiele believes that the combination of technology offers 'a revolution in the way that railways are controlled'. While many different applications are available from individual systems, the ability to 'do it all in one' was a first, he suggested. As well as several trials with DAS in North America, both SBB in Switzerland and DB in Germany are planning pilot projects to explore the concept.
Read more about the development of Frauscher Tracking Systems in the September 2016 issue of Railway Gazette International, available to subscribers in our digital archive.