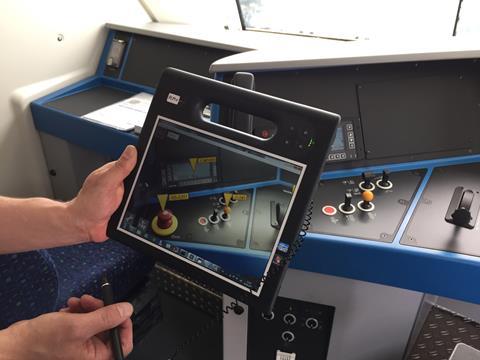 EUROPE: The Services division of Siemens is trialling the use of augmented reality on tablet computers to support the maintenance of Vectron locomotives.
Siemens staff the Transport Logistic exhibition in München demonstrated how augmented reality could assist staff working on a locomotive at a remote location. Technicians arriving by road can use the secure ethernet network available on each Vectron loco to access an encrypted Siemens back-office server on the their handheld device.
Augmented reality enables the technician to have 'point and click' functionality to undertake diagnostic tasks and routine checks. Directing the tablet's camera at the bogie, for example, could allow the technicians to retrieve a CAD drawing of the wheelset and instructions on how to adjust or remove a yaw damper. Siemens suggests that several thousands of pages of instruction manuals would also be immediately accessible, as would the maintenance history and any details of modifications to the specific locomotive.
Formal beta trials of the technique are expected to begin by October with a view to the option being offered commercially as part of Siemens' Vectron maintenance offering from early next year.