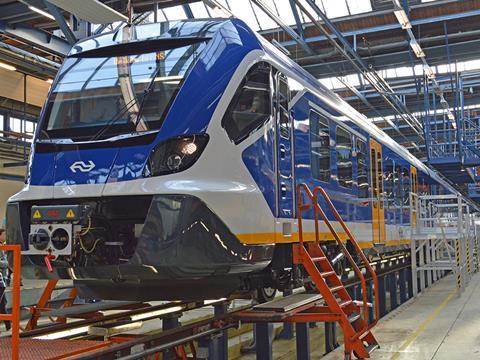 NETHERLANDS: National passenger operator NS is to test attended automatic operation on the 50 km Hanze Line between Lelystad and Zwolle by the end of this year.
The tests are to be undertaken by NS in partnership with infrastructure manager ProRail and the Ministry of Infrastructure & Water Management, as part of a wider programme to assess the potential impact of automated train operation on network capacity, sustainability and safety.
A CAF Sprinter New Generation electric multiple-unit is to be tested using attended ATO under Grade of Automation 2. An onboard computer will control movements using data from the train and infrastructure. Passengers will not be carried, and a driver will remain in the cab to supervise operations and intervene if necessary.
NS and ProRail envisage that automated operation could enable headways to be reduced, providing an increase in line capacity to support a projected 45% growth in rail ridership by 2030. Train running could be more consistent, while co-ordinated control of the acceleration, speed and braking of every train on a route could reduce energy consumption.
ProRail worked with Arriva and Stadler to test GoA2 operation of a GTW diesel multiple-unit on the Groningen – Zuidhorn line earlier the year, and further tests were announced in September. Last December ProRail, Rotterdam Rail Feeding and Alstom tested a locomotive on the Betuwe Route as part of a programme to develop automated operation of freight trains.