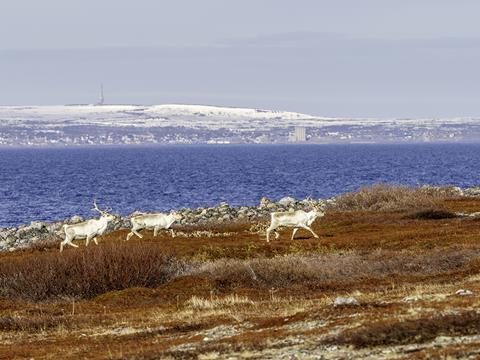 NORWAY: Satellite technology has been developed to try to reduce collisions between trains and reindeer in remote areas of Norway. Because reindeer are free-roaming herd animals, a single incident can injure as many as 50 animals.
Developed by animal tracking technology company FindMy as a result of hackathon organised by mapping authority Kartverket, SaveMyReindeer combines real-time train location information with open data from Kartverket to create a moving geofence of 40 to 50 km around a train. This is then compared with data from FindMy GPS tracking collars already being worn by reindeer.
Train drivers are alerted when they are approaching the herds of animals so they can accelerate to get out of the herd's way, slow down or stop the train. The reindeer owner also receives a smart phone alert warning them that their animals may be in danger, giving them the opportunity to move the herd. In the event of a collision, the precise GPS location is available to the authorities.
The collars use Globalstar's STX3 chipset and satellite data network. 'When designing SaveMyReindeer, we knew that only satellite would give us the reach we needed in remote regions', said FindMy founder Halvor Mjoen. 'Other requirements were low power consumption and minimal maintenance since reindeer live outdoors year-round. Low cost was also a key requirement to drive higher volumes of collars'.