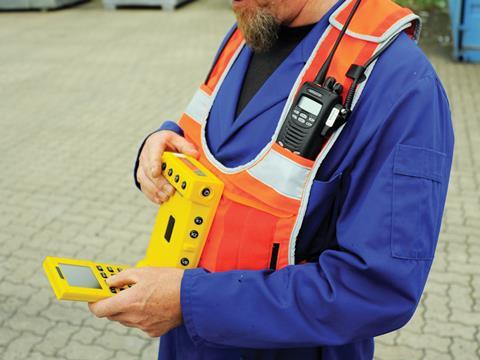 SHUNTING: Höft & Wessel has developed a hand-held control unit for remote control of shunting locomotives and associated equipment.
Enclosed in a ruggedised plastic casing with a fold-out data terminal, the almex.cargo unit weighs 600 g including batteries, and can operate for up to 10 h on a full charge.
Designed to meet Eirene specifications, the unit is fitted with a tri-band GSM-R communications module that enables simultaneous voice calls and data transmissions; it can also be connected to analogue radios if necessary. The large, tactile control keys have been designed for use by operators wearing gloves, and the back-lit keyboard is optimised for both daytime and night use. An emergency call button can be activated single-handedly.
A motion sensor with integrated GPS module protects against sudden movements such as a fall, triggering an emergency message with location data if the device is not moved again within a specified time period.