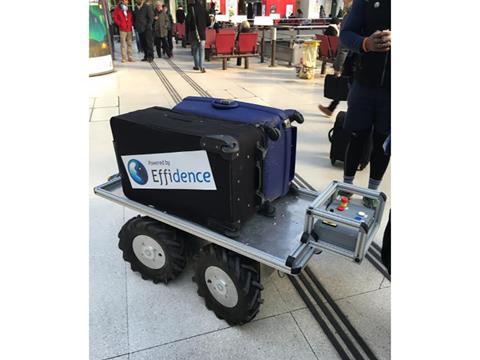 FRANCE: A robot luggage trolley and two types of cleaning machine are being tested in Paris by SNCF's station management business Gares & Connexions.
The motorised luggage carrier has sensors which enable it to automatically follow the route taken by staff who are assisting less-mobile passengers at Paris Est. It was developed by Effidence with €50 000 from SNCF, and is based on a design used by warehouse staff as well as grape pickers in vineyards.
Meanwhile, the Swingbot 1650 robot suction cleaner from Intellibot Robotics is being tested at Paris Lyon in partnership with cleaning contractor Sud Service. It is fitted with 360° sensors and can operate autonomously, freeing staff for other tasks.
Sud Service and Fab Lab IciMontreuil have developed another cleaning machine, which has a rotary 'toothbrush' mounted on an arm in order to clean areas that are hard to reach. This is being tested at Paris Montparnasse station.