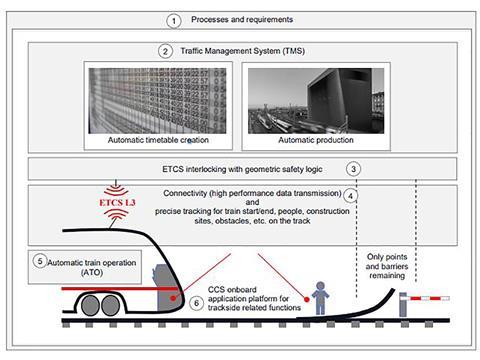 SWITZERLAND: Swiss Federal Railways expects to launch trials of a next-generation signalling system within three years. Reporting details of progress with the 'ambitious' SmartRail 4.0 programme at the Alpine Rail Optimisation conference in Wien on November 8, SBB's head of Co-operation & Research for the project Bernhard Rytz said the operator was 'not very happy' with ETCS.
SBB has experience with Level 2 dating back to a pilot installation between Luzern and Olten in 2002-03, after which it was installed on the Mattstetten – Rothrist line and in the Lötschberg and Gotthard base tunnels, and more recently elsewhere. Long-term plans envisage that Level 2 will be gradually installed across the Swiss network, but in a report submitted to the Federal Office for Transport in December 2016 put forward two alternative roll-out strategies. According to Rytz, a three-year 'thinking space' has been agreed.
Migration to Level 2 using today's interlockings was slow and expensive, he said, to the extent that SBB was 'rethinking the whole system' with a focus on 'everything needed to plan and safely control movement and occupation of the tracks'. Rytz also said SBB 'cannot live with GSM-R', adding that ETCS 'cannot be used in stations' as there is not enough capacity.
Casting doubt on official forecasts for the rail business in Switzerland, which predict 51% growth in passenger-km between 2010 and 2040 and a 45% rise in tonne-km over the same period. Rytz said 'we don't believe in these numbers'. He felt that 'a lot of things are going wrong', adding that 'if we don't sort it, someone else will' — a reference to falling costs for competing modes.
SBB is working on SmartRail 4.0 with Südostbahn, BLS, Rhätische Bahn and the Swiss Association of Public Transport VöV. Goals agreed in 2016 include annual cost savings of SFr450m from 2040, a 70% reduction in the number of trackside installations, an increase in line capacity of 15% to 30%, a 50% increase in the availability of safety-related equipment and a 90% reduction in the probability of collisions during shunting and engineering work.
The programme employs 150 staff and is 'fully funded' up to 2020. The planning phase is due to run until the end of 2019, by when the system architecture with open interfaces should have been defined. Rytz said a test installation is planned 'in two or three years' with a view to system roll-out in 2027-35.
Combining the logic from ETCS Levels 2 and 3 with existing protocols, SmartRail 4.0 is intended to reduce the complexity of equipment and permit attended ATO to GoA2. Trains will 'know' their exact location, allowing more functionality to be moved from trackside to train. Future interlockings would integrate the functions of today's radio block centres, while modular onboard equipment will be developed to reduce costs.
Asked about the views of operators in neighbouring countries, Rytz said that SBB was working with DB and SNCF on specific aspects of SmartRail 4.0. An overall system architecture with standard interfaces is being drawn up as the basis for future projects and procurement, with the first public 'alpha' release expected in February 2019. If a 'critical mass of railway companies' can be established, Rytz said, 'then we will be able to define a market for this system'.