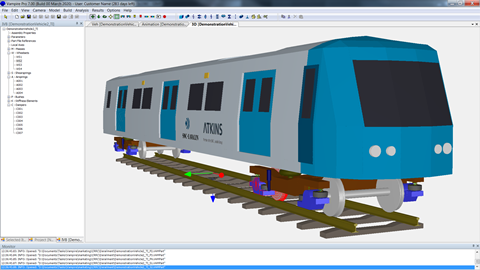 UK: SNC-Lavalin has acquired the rights to to develop, support and licence the Vampire Pro software which is used model the dynamic behaviour of railway vehicles in response to track and other external forces.
This follows Resonate's decision to withdraw from vehicle dynamics consultancy, and to freeze Vampire at its current production version. Vampire has been used on railway projects across Europe and in countries including China, Malaysia, Australia, the USA, Canada, Brazil and South Africa.
SNC-Lavalin will provide existing and new users with licensing, long-term development and support. Flexible options are to be made available, including packages to upgrade from perpetual licences to annual supported licences providing the latest developments, and shorter-term licences. Packages will also be offered to academic institutions for non-commercial projects.
Training courses will be available from an experienced railway dynamics team, comprising developers and support staff with decades of Vampire experience, including some of who have previously worked within the Vampire software team and Resonate.
'The rights to develop, support and licence Vampire Pro and the commitment to continue its development allows our independent team of railway dynamics engineers to innovate and help our clients all around the world', said Farzana Hampshire, SNC-Lavalin's Dynamics, Gauging & Testing Team Lead.
'Securing the rights to develop, support and licence Vampire Pro means we can further develop the software and provide end users with new optimised tools, such as improved longitudinal dynamics, in-line wheel/rail contact and advanced track modelling in Vampire's easy-to-use environment.'