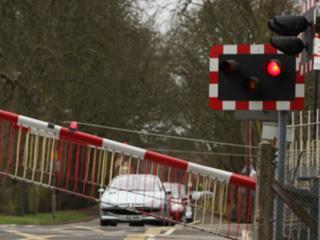 UK: A research programme partly funded by the UK Department for Transport and undertaken by the Institute of Railway Research at Huddersfield University has confirmed the potential for powering level crossings using vibration harvesting.
The IRR research has focused on the potential for using vibration caused by passing trains to power a network of small wireless sensors which together could form a networked grid to detect train movements and control the opening and closure of gates.
According to IRR's Research Fellow Dr Farouk Balouchi, the proposal is a 'completely novel' use of wireless sensors. Vibration harvesting is a proven technology used in the oil and medical device industries, as well as in some rail applications including vehicle condition monitoring.
IRR believes the potential cost savings from adopting the technology could be significant, as costly and maintenance-intensive lineside cabling could be dispensed with. IRR believes its system could be installed for around £20000 per level crossing, compared to the £500000 typically required for conventional control equipment. IRR is now holding talks with industrial partners with a view to bringing the technology to market.
IRR is to deploy a liquid-cooled Iceotope PetaGen 1C high-performance computer to support its analysis of railway safety data. It occupies 1 m2 of floor space, allowing it to be co-located with IRR's researchers rather than being housed in a separate data centre.