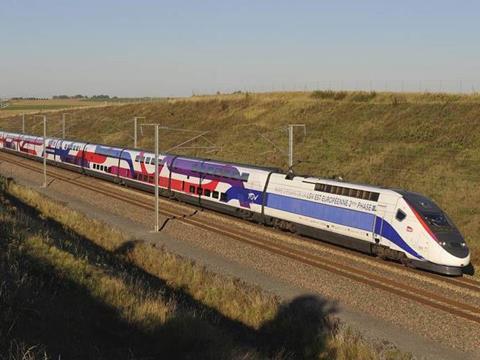 FRANCE: Dynamic trials on the second section of LGV Est-Européene between Baudrecourt and Vendenheim resumed on February 29. Testing of track, electrification, signalling and radio systems on the high speed line is being carried out under stricter safety procedures introduced following the fatal accident at Eckwersheim on November 14 2015.
In particular, testing is now being undertaken with automatic train protection in operation to limit the maximum speed at which the train can operate, as would be the case in commercial service. SNCF says that this was one of the measures that it had decided to implement after the derailment of a test train at Eckwersheim, which according to accident investigation bureau BEA-TT was caused by excessive speed.
The section of the line damaged during the accident remains sealed off pending further investigation. SNCF says that the rest of the 106 km high speed line between Baudrecourt and Vendenheim will be brought into service on July 3, further cutting journey times between Paris and Strasbourg.