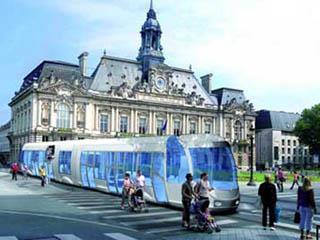 FRANCE: Tours transport authority SITCAT has appointed a consortium led by Systra as project manager for the city's first tram line. Studies began last month and construction is scheduled to begin in June 2010, ready for services to be launched on September 1 2013.
The consortium includes infrastructure consultants Safège and ECCTA, railway systems specialist Xélis, and architects and urban development consultants Richez_Associés and Ivars & Ballet.
Line 1 will run 15·5 km south from Lycée Vaucanson to Rue Jean Monnet in Joué-lès-Tours, with 30 stops. The alignment will require the construction of two major bridges, one to cross the ring road and a second across the River Cher, which are not part of the consortium's brief.
Studies suggest that a fleet of 27 trams around 30 m long will be required. Overhead electrification will not be used in the city centre and on the UNESCO World Heritage-listed banks of the Loire, although the catenary-free technology to be used is still to be finalised.
The Ensemble(s) la ligne team, a collective of French artists and urban developers, has been entrusted with creating a design concept for the tramway, including the infrastructure and rolling stock. The team was brought together by Régine Charvet Pello, who will manage the design project.