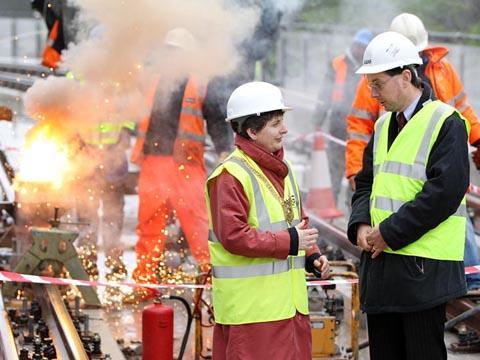 IRELAND: Sparks flew in Dublin on May 5 when the final piece of track was welded in place on the Luas Line B1 Cherrywood tram extension.

On hand to witness the occasion, which took place at the Brewery Road bridge in Sandyford, were Councillor Marie Baker, Chairperson of Dun Laoghaire-Rathdown County Council, and Frank Allen, CEO of the Railway Procurement Agency.

The completion of tracklaying marks a major milestone in the project to extend the Green Line by 7·5 km from its existing terminus at Sandyford to Bride's Glen. The new route will have 11 stops.

The overhead cables on the extension went live on May 12. Detailed operational testing of all electrical and power connections, CCTV equipment as well as systems integration with the existing Green Line must be completed before the new section can open in late 2010.