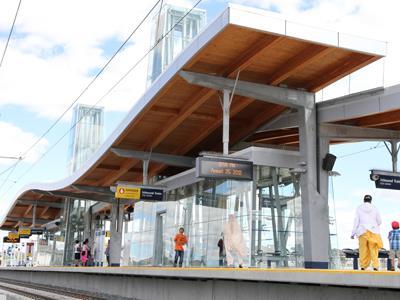 CANADA: Public art is a feature of the 2·9 km northeast extension of Calgary Transit's light rail Blue Line from McKnight-Westwinds to Martindale and Saddletowne which opened on August 27. Construction has taken three years at a cost of C$124m.
The two new stations are located within walking or cycling distance of local residents, improving access to businesses, shops, schools and a health centre. Ridership is predicted to be around 8 000 passengers/day.
Saddletowne station incorporates two 'gently rolling' canopies with a pair of 12 m internally-lit spires intended to be a local landmark. There are bicycle lockers and racks, passenger drop-off points and 131 park and ride spaces, half of which can be reserved. The landscaping is designed to offer clear sightlines to ensure pedestrian safety.
Alongside the route at Martindale is a 162 m mixed-media mural which uses terracotta, pattern-cut metal, LEDs and ambient lighting to create 'an engaging, culturally and contextually rich experience for CTrain users', based on 'the physical and symbolic connections of rivers to the city through which they flow.'