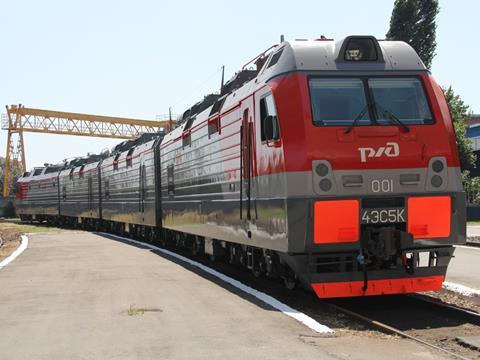 RUSSIA: 'The most powerful AC electric freight locomotive in the world' was unveiled by Transmashholding's Novocherkassk Electric Locomotive Plant and Russian Railways as part of Railwaymen's Day celebrations in Rostov-na-Donu on August 3.
The four-section 4ES5K has a 1 h rating of 13·12 MW. This is intended to be sufficient to haul 7 100 tonne freight trains on the Tayshet – Taksimo section of the Baikal-Amur Magistral route without needing additional locomotives, or 9 000 tonne trains on less steeply-graded routes.
The 4ES5K is derived from TMH's twin-section 2ES5K Yermak design, with extensive commonality of components. The booster sections include a crew room with toilet.
RZD certification is expected in November, with 53 locomotives scheduled to be delivered by 2020.