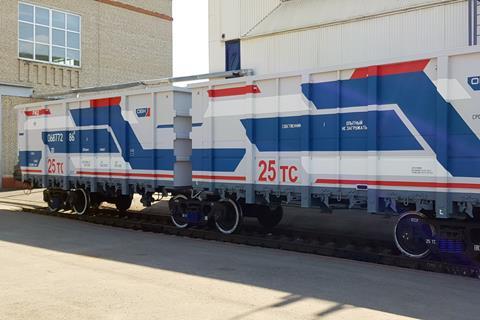 RUSSIA: United Wagon Co has obtained federal certification for two designs of articulated open wagon. It said these can increase the load per unit length by 23% compared to conventional designs, providing a significant boost to network efficiency without needing to change the infrastructure to accommodate longer trains.
The Type 12-6877 wagon has a solid bottom and a capacity of 117 tonnes, while the Type 12-6877-02 has unloading hatches and a capacity of 114·5 tonnes.
Both types have three Type 18-9855 bogies with 25 tonne axleloads and high efficiency braking systems, and have been designed for unloading using tandem rotary car dumpers.
'The need to improve efficiency in rail freight transportation is long overdue', said UWC's Head of Marketing Nina Borisenko. She expects that large companies to be looking for high-performance articulated cars in the medium-term future.
'Articulated wagons are a means of increasing the network's carrying capacity by 1·5 times through an increase in the train weight to 9 000 tonnes, which expands the capacity of limiting sections of the track without any additional investment in infrastructure, reduces the required fleet size, and overcomes both seasonal and market fluctuations in rolling stock demand', Borisenko explained.