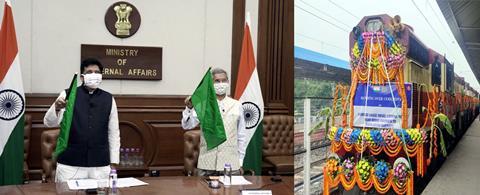 BANGLADESH: India formally handed over 10 WDM3D diesel locomotives which are being donated to Bangladesh Railway with a virtual ceremony on July 27.
The 1 676 mm gauge, 3 300 hp mixed traffic locomotives have been modified to suit height restrictions in Bangladesh and are expected to have a residual life of at least 28 years.
The previous day a cross-border container service was launched, carrying 50 containers of consumer goods and fabrics. This is expected to become a regular service.
The Indian government has offered credit of US$244bn to support 17 railway projects in Bangladesh, with an interest rate 1% and repayment over 20 years with five year grace period.
The Kulaura – Shahbazpur line being built at a cost of US$78m is set to be completed by the end of this year, and the US$389m Khulna – Mongla line is planned for completion by June 2021. A 12 km cross-border link between Agartala and Akhaura is set to be completed by March 2021, and would enhance freight and passenger connectivity to India's northeastern states.