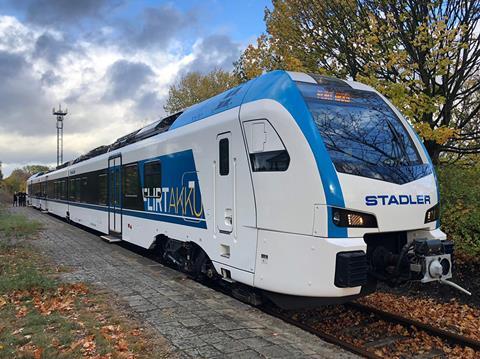 GERMANY: A study of climate-neutral traction technology by VDE, the Association for Electrical, Electronic & Information Technologies, has concluded that over a 30-year life-cycle battery-powered multiple-units are substantially cheaper and more efficient than those powered by hydrogen.
The study published on July 21 concludes that the costs of battery-powered EMUs are similar to those of EMUs taking power from overhead wires. Hydrogen-powered multiple-units are, in contrast, more expensive and less efficient, being up to 35% more expensive to buy, operate and maintain.
The report's author Dr Wolfgang Klebsch said that 'to verify this difference, we also carried out an extensive sensitivity analysis in addition to determining the capital values. And here we see that the difference is significant. No matter how you look at it, the battery concept always stays ahead'.
Klebsch explained that 'to achieve the climate change goals, we assumed that green hydrogen would be used. Green hydrogen is generated electrolytically by an electrolyser with an efficiency of less than 80% through the use of electricity from renewable sources … in terms of energy content, the price of green hydrogen is therefore always higher than the price of electricity'. Not only that, but the hydrogen on board the train must be converted into electricity for traction with an efficiency of less than 70%. The efficiency of the fuel cell and electrolyser drive up the energy requirement and the energy price, so that the energy costs of a hydrogen-powered EMU significantly exceed those of a train taking power from overhead wires or batteries.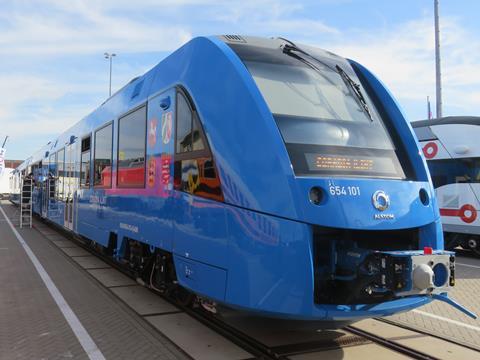 A further difference in cost arises from the cost of the fuel cells needed for hydrogen-powered traction. These still have a relatively short life, so that they need to be replaced seven times within the life of a vehicle, Klebsch said. As hydrogen technology advances, this cost difference will probably reduce, but at the moment it is impossible to forecast how long this will take, VDE noted.
The study was based on three regional rail services operated in the Düren area by Rurtalbahn under contract to Zweckverband Nahverkehr Rheinland, using the planned timetable for 2026 as a basis for data on service levels, fleet size, operations and speed limits. VDE added its own measurements covering speed, acceleration and braking values as well as station dwell times. Energy requirements were calculated on the basis of simulations that included route profiles, the performance of auxiliary equipment and empty stock workings. Fuel and energy consumption values were drawn from published technical descriptions, and procurement costs for components, for installation and for operations were taken from data provided by manufacturers.
The study, Bewertung klimaneutraler Alternativen zu Dieseltriebzügen – Wirtschaftlichkeitsbetrachtungen am Praxis-Beispiel 'Netz Düren', was funded by the Federal Ministry of Transport & Digital Technology.
Websites
We are not responsible for the content of external sites