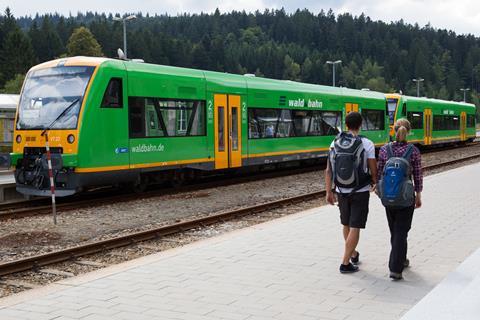 GERMANY: Replacing diesel trains in the Bayerischen Wald with battery traction would be technically possible but require infrastructure investment of up to €32m and have a lead time of at least 10 years, according to a study undertaken by Technische Universität Dresden for Bayern railway agency BEG.
The study looked at the Bayerwald network which comprises services RB35 Plattling – Deggendorf – Zwiesel – Bayerisch Eisenstein, RB36 Zwiesel – Grafenau, and RB 37 Zwiesel – Bodenmais. Trains are currently operated by Die Länderbahn under the Waldbahn brand.
The Land intends to require the use of CO2-neutral vehicles from the start of the next operating contract in December 2034. 'We want all regional transport in Bayern to be emission-free by 2040 at the latest, including in the Bayerischen Wald', said Bayern's Minister of Transport Christian Bernreiter on April 4.
'Since the routes there can certainly not be completely electrified in the medium term, we are looking around for alternatives in good time. The results of the study are an important first basis for decision making. To be honest, they are also a bit sobering in terms of time and cost.'
The high cost would mainly be down to a need for 'electrification islands' where the batteries could be recharged; Plattling station is currently the only place on the Bayerwald network which is electrified.
BEG has commissioned TU Dresden to undertake a second study which will look at hydrogen and hybrid traction, as well as the potential impact of proposed electrification of the Czech line from Klatovy to the border station at Bayerisch Eisenstein which would reduce the need for electrification islands in Bayern. The report is expected later this year.
The Land and DB Netz are also discussing how axleloads could be increased to permit the use of modern rolling stock.
'In terms of climate protection, rail travel is already vastly superior to the car', said BEG board member Thomas Prechtl. 'Nevertheless, we would like to further expand this advantage and make regional transport completely climate-neutral. Which traction technology is most suitable depends to a large extent on the rail infrastructure; there is no one-size-fits-all solution. That's why we are taking a very close look at each individual route.'
Deutsche Bahn has put forward plans to electrify the route from Nürnberg to Amberg and Furth im Wald, raise the maximum speed of sections to 160 km/h, and enable long freight trains to pass at Hiltersdorf and Freihöls.