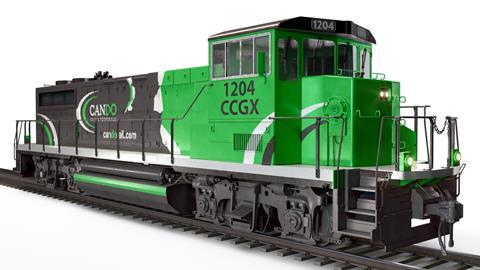 CANADA: Cando Rail & Terminals is developing a lithium-ion battery-powered locomotive to offer a zero-emission replacement for diesel shunters in yards and industrial sites, with an expected 40% reduction in energy consumption.
Cando is working with Innovative Rail Technologies, which has previously produced a demonstrator battery locomotive in the USA.
The Cando locomotive will be produced next year by rebuilding an obsolete diesel. Nickel manganese cobalt batteries have been selected, as although they have a lower energy density than other li-ion batteries, they offer better fire safety performance with less need for specialised training.
The loco will be evaluated operating under real-world conditions in Fort Saskatchewan, Alberta, between October 2024 and December 2025.
The provincial government is providing C$2m towards the C$4m project through Emissions Reduction Alberta's Industrial Transformation Challenge.
'This industry-transforming initiative could drastically reduce greenhouse gas emissions, helping rail service providers and industrial companies moving product by rail meet sustainability goals faster', said Cando's Chief Commercial Officer Steve Bromley on July 27.