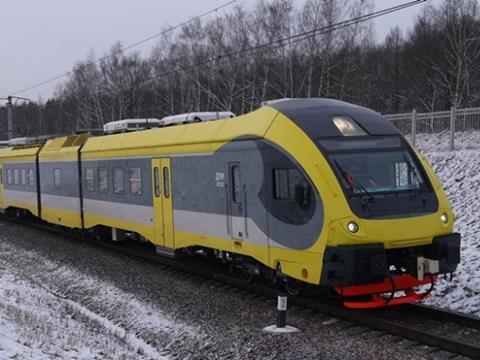 RUSSIA: Central Suburban Passenger Co announced on December 28 that it had ordered a Type DP-M diesel multiple-unit from Transmashholding subsidiary Metrowagonmash for use on the Golutvin – Ozyory line south of Moscow.

This follows the granting of approval for series production of the DP-M design, which has a separate walk-though traction module designed and supplied by Stadler Rail based on its experience with the GTW family of multiple-units. The use of a separate traction module is expected to reduce noise and vibration in the passenger saloons compared to designs with underfloor engines.

The GTW+ power module for the 1520 mm gauge market was unveiled by Metrowagonmash and Stadler Rail in 2013, and has a 1·12 MW Cummins engine. The module is larger than those used on standard gauge GTW DMUs, with four rather than two axles on the powered section.

The DMU for Central Suburban Passenger Co will have five cars with a total of 652 seats, plus the power module, with CCTV and audio-visual passenger information systems. The driving cars will have facilities for passengers with wheelchairs to board, along with wheelchair-accessible and crew toilets.

The DMU is scheduled to be delivered by February 15. Metrowagonmash will undertake scheduled maintenance for 30 years following its entry into service.