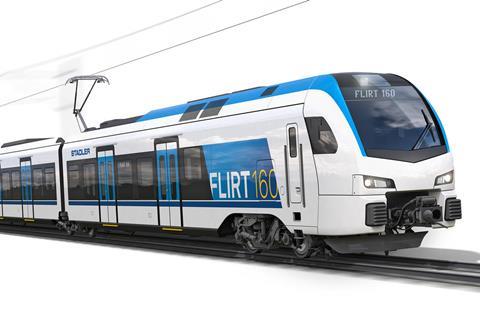 PORTUGAL: National operator CP has awarded Stadler its first contract to supply 1 668 mm gauge versions of its Flirt regional multiple-unit family for use on the Iberian Peninsula.
The €158m contract signed on October 21 covers 10 electric multiple-units and 12 electro-diesel units, along with staff training and four years of maintenance.
The modular design will enable the bi-mode units to be converted to electric-only operation, or the diesel generators to be replaced by batteries, depending on the operator's future needs.
The three-car aluminium bodied EMUs will be 63·2 m long, while the BMUs with an extra power module will be 74·4 m. They will have a 214 seats and a total capacity of 375 passengers, with wi-fi, step-free access from platforms of different heights and dedicated space for wheelchairs, pushchairs and bikes.
The units will be designed for a maximum speed of 160 km/h under electric power or 140 km/h using their diesel powerpacks.
Stadler has now sold a total of more than 1 900 Flirt multiple-units in 21 countries. 'I am convinced that Portuguese passengers will appreciate the innovative and modern Flirt, as millions of people in Switzerland, Germany and the Netherlands, among other countries, already do', said Sales Director Ansgar Brockmeyer. 'The Portuguese market is extremely important for Stadler. We are happy that we can contribute to the modernisation of the Portuguese railway industry.'