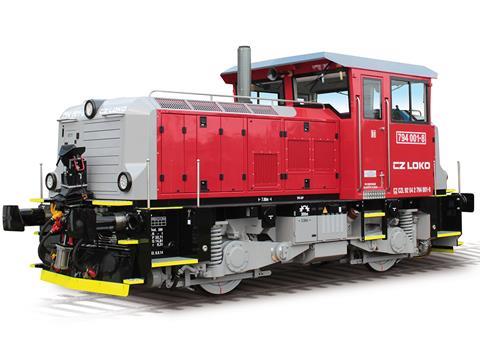 CZECH REPUBLIC: National operator ČD announced a KC239m order for 12 CZ Loko two-axle EffiShunter 300 diesel-electric shunting locomotives on July 24.
To be designated Class 794, they will be deployed at Bohumín, Olomouc, Hradec Králové, Plzeň, Brno and Praha stations to replace more powerful but expensive to operate Class 714/714.2 Bo-Bo locos which were produced in the 1990s by modernising 1970s Class 735 locomotives.
The Class 794 locomotives will be powered by 328 kW Caterpillar C13 engines meeting EU Stage IIIB emission standards, and will have AC/DC transmission, an electronic control system, online diagnostics and multiple control capability. The 36 tonnes locos will have a maximum speed of 60 km/h and maximum tractive effort of 124 kN.
The design is already approved for operation in the Czech Republic as well as Slovakia, and deliveries are planned to be completed by February 2019.