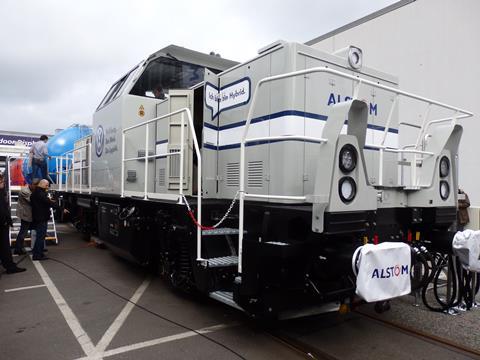 SWITZERLAND: Investment group Reichmuth Infrastruktur Schweiz's leasing business LokRoll 2 has awarded Alstom a €40m contract to supply 12 Prima H3 diesel-battery hybrid shunting locomotives, which it will lease to SBB Cargo for 10 years.
The three-axle locomotives are to be delivered from Alstom's Stendal plant from October 2020. Alstom will be responsible for maintenance, which will be undertaken in partnership with SBB Cargo.
SBB Cargo has leased three Prima H3 locomotives since mid-2017 for use within the Basel-Kleinhüningen freight terminal and in Aargau. The latest batch of locos will be equipped with PZB and ETCS to permit main line operation.
The Prima H3 has a 350 kW diesel engine complying with Stage IIIB emissions standards, as well as a battery pack which provides power for between 50% and 75% of the operating time. According to Alstom the Prima H3 is quieter in operation and generates up to 50% less CO2 than conventional shunting locomotives, while other emissions are reduced by up to 70% and fuel consumption by up to 50%.
Prima H3 locos are now used by 11 operators in Germany and Switzerland, including Volkswagen, Deutsche Bahn, Audi, Metrans, InfraLeuna, Mitteldeutsche Eisenbahn, Chemion and SBB Cargo.