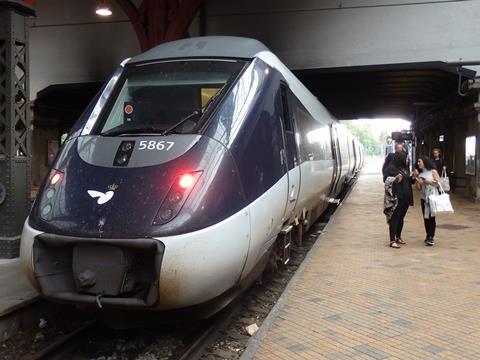 DENMARK: DSB's trouble-plagued fleet of IC4 diesel multiple-units must be kept going for the time being, but will be phased out from 2024, according to an evaluation report presented to the Parliamentary Transport Committee by the state-owned operator on December 15.
Under an agreement with the previous government setting out the passenger service strategy for 2015-24, DSB had been asked to review the long-term perspectives for the AnsaldoBreda-built IC4 and IC2 trainsets by the end of 2016. It was asked to determine how many of the 82 four-car and 23 two-car units should be commissioned for revenue service 'in the light of further experience'.
According to CEO Flemming Jensen, since an external consultant's report was published in December 2014, DSB has been working hard 'to implement the recommended improvements'. However, it announced earlier this year that the four-car IC4s would no longer form the backbone of the inter-city fleet as originally planned and that the IC2 regional sets would be phased out.
'The figures from the ongoing status reports speak for themselves', Jensen explained. 'The effort required would still not give us a train with the degree of reliability that we believe is needed to achieve our objectives.'
DSB will continue to require diesel trainsets until it begins phasing in a new generation of electric multiple-units from 2024. As it is not practical to acquire alternatives for the intervening period, it will therefore need to retain some IC4s. However, they will be primarily deployed on regional services rather than inter-city routes. In the meantime, the book value of the fleet is to be written down to a more realistic level in DSB's 2016 accounts.
Under the 'minimalist deployment plan', DSB will continue to focus on reducing the number of failures which cause delays and ensuring that sufficient trains are available each day. Work will continue to improve comfort in the passenger saloons and ensure that the units can operate in multiple.
At present, DSB says that between 30 and 32 IC4s can be diagrammed for service each day. It hopes to increase this figure to around 40, which will require a 30% increase in workshop capacity and more staff to repair faults. The total number of operable trains will be increased to 77.
DSB believes that there is still a risk that faults with the IC4s will continue to result in delays, and warns that more intensive operation could cause 'new and yet unknown' failures. To safeguard against the consequences of any further deterioration in performance, DSB's business continuity team is looking at purchasing more stock that would allow the last IC4s to be phased out rapidly. The tender for 26 electric locos issued in August includes an option for additional units which could be exercised by 2019.
'This report presents a strong and realistic plan to provide enough capacity for passengers pending the purchase of electric trains', said Jensen. 'At the same time, we can see an end date for the IC4s on the horizon and thus put an end to an unhappy chapter in DSB's history.'