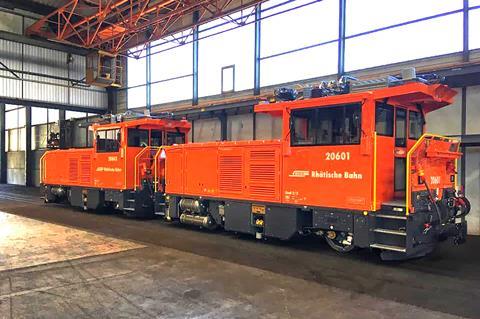 SWITZERLAND: Rhätische Bahn has taken delivery of the first two of seven Geaf 2/2 electric-battery shunting locomotives ordered from Stadler.
The SFr21·5 order for the metre-gauge locomotives was placed in September 2018, with RhB undertaking procurement in co-operation with Matterhorn Gotthard Bahn which ordered two similar locos. RhB estimates this co-operation reduced the cost by SFr1m.
The locomotives will primarily use overhead electric power, with the auxiliary lithium-ion battery providing power when the electrification is switched off or on non-electrified tracks. This is expected to be more cost–effective and environmentally friendly than the use of auxiliary diesel engines.
The locos are rated at 500 kW and have a maximum speed of 80 km/h during overhead electric operation and 40 km/h and 200 kW when using battery power.
RhB plans to withdraw 11 older shunters when all seven of the Geaf 2/2 locomotives are delivered to Landquart, Untervaz, Chur, Thusis, Zernez, Davos and Ilanz.
Presenting its 2019 financial results on April 24, RhB reported a profit of SFr5·4m, although freight traffic was down and lost SFr1m, mostly attributed to the summer closure of the Engadin line and the construction of the new Albula tunnel. The Vereina tunnel car shuttle carried a record amount of 529 117 vehicles and made a profit of SFr1·6m. Investment totalled SFr339·4, up from SFr271·8m in 2018.