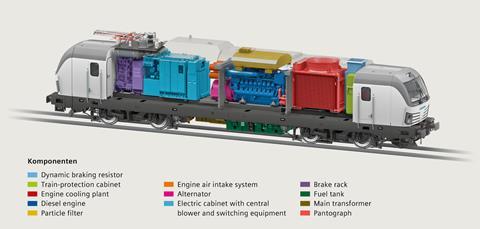 GERMANY: Railsystems RP has become the first customer for Siemens Mobility's Vectron Dual Mode electro-diesel locomotive, with an order announced on November 18 for two to be delivered at the end of 2020.
Announced at InnoTrans 2018 and unveiled at the manufacturer's München-Allach plant in March this year, the Vectron Dual Mode is specifically designed for freight services in Germany, being equipped to run under 15 kV 16·7 Hz electrification and fitted with the PZB train control system. It has a maximum speed of 160 km/h, and power at the wheel rim of 2 MW in either mode.
'Railsystems RP is getting a locomotive that combines the best of two worlds', said CEO of Siemens Mobility Sabrina Soussan. 'On electrified routes, the Vectron Dual Mode is powered by electricity to save fuel and reduce maintenance costs. On rail routes without overhead wires, the Vectron can shift to diesel operation without the operator having to change locomotives.'
An in-depth article on the Vectron Dual Mode appeared in the November 2019 issue of Railway Gazette International magazine, which registered readers can read online.