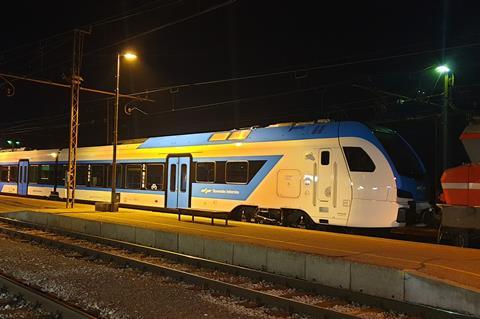 SLOVENIA: The first of 52 Stadler multiple-units ordered by national operator SŽ arrived in Slovenia on March 11.
On April 17 2018 SŽ placed an initial order worth €170m for 11 four-car Stadler Flirt 160 km/h electric multiple-units equipped for 3 kV DC, 15 kV 16·7 Hz and 25 kV 50 Hz operation in Slovenia, Austria and Croatia, five three-car Flirt 140 km/h diesel-electric multiple-units with pairs of Deutz engines and 10 three-car Kiss 160 km/h double-deck 3 kV DC EMUs.
This was followed on May 27 2019 by the exercising of a €151m option for further 10 Flirt EMUs and 16 DMUs.
The Flirt EMUs are intended for use on cross-border services to Austria and Croatia, while the Kiss double-deck EMUs and the DMUs will be used on domestic services. This will enable the withdrawal of Pafawag Class 311/315 EMUs, Fiat Class 813 DMUs and locomotive-hauled coaches.