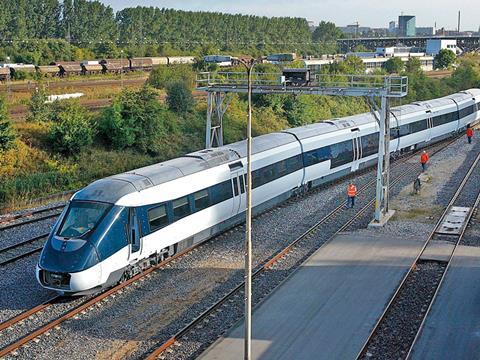 DENMARK: Four manufacturers have prequalified to bid for the Future Trains contract to supply and maintain at least 100 electric multiple-units which would replace most of national passenger operator DSB's diesel fleet.
They are:
Alstom Transport Danmark;
Bombardier Transportation Denmark;
Siemens Mobility;
Stadler Bussnang.
The government gave the go-ahead for the procurement process in June. The prequalified bidders were announced on October 24, and their initial proposals are scheduled to be submitted by early 2019. DSB will then enter into dialogue with the bidders with a view to final offers being submitted in early 2020.
It plans to award the contract by mid-2020, when the number of vehicles and the delivery schedule would be finalised. The first trains are expected to enter service in 2024.
The 25 kV 50 Hz EMUs would replace DSB's troubled AnsaldoBreda IC4 DMUs which are all due to be phased out from 2024, and the older ABB-built IC3 units which are to be retired by 2027.
DSB's Director of Strategy & Trains, Jürgen Müller said the prequalified manufacturers had demonstrated that they had successfully supplied other operators with vehicles similar to those which DSB is seeking, and prequalifying four companies would ensure a competitive tendering process.
Alstom said it was 'very pleased to proceed to the next phase of this tender process, and we are looking forward to detailing our offer and adapting our product to the customer's specific needs.'
Managing Director of Bombardier Transportation Danmark Peter Sonne said Bombardier and its predecessors have a long history of supplying vehicles to DSB, and 'we will do our utmost to deliver the next generation.'