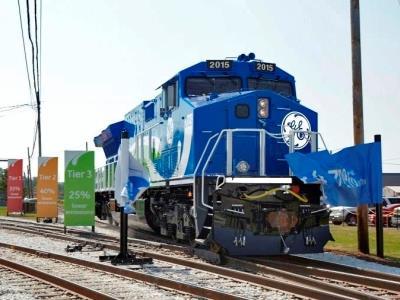 USA: GE Transportation is testing what it says is the first diesel locomotive to meet the Environmental Protection Agency's Tier 4 emission standards without the use of any type of after-treatment.
The Tier 4 standards were announced in 2004 and are due to come into force on January 1 2015. GE says its technology based on using hot exhaust gases to keep the cylinders at the optimal temperature eliminates the need for filters and a catalytic converter which can add 1 800 kg to the locomotive and requires the provision of infrastructure to supply the urea which would otherwise be used to break up NOx into nitrogen and water.
Trials with the Evolution Series Advance Power 4 are underway on 160 km of Norfolk Southern track in western Pennsylvania and eastern Ohio, and additional field testing is planned for the near future.
Describing the project at the Railway Interchange exhibition, Eric Ducharme, Vice-President, Global Technology at GE Transportation, emphasised that the locomotive is a development of the existing Evolution Series platform, not a new design, which should enable easy adoption by current Evolution operators.
GE has also developed NextFuel natural gas retrofitting kits to enable existing Evolution Series locomotives to operate on 100% diesel or up to 80% natural gas, with Tier 3 compliance. GE began testing low-pressure natural gas technology earlier this year, and a pilot programme with BNSF is to be launched next year.