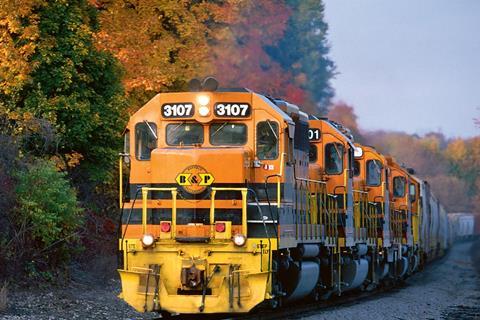 USA: Wabtec Corp has announced the largest order to date under its certified pre-owned locomotives programme, with 69 locos to be delivered by December.
The order announced on June 27 covers the supply of 35 Dash 9 and 34 Dash 8 locomotives to six Genesee & Wyoming subsidiaries: Buffalo & Pittsburgh Railroad; Chicago, Ft Wayne & Eastern Railroad; Connecticut Southern Railroad; Indiana & Ohio Railway; New England Central Railroad and Providence & Worcester Railroad.
Wabtec has now sold more than 210 locomotives to eight customers through its certified pre-owned programme, which provides locomotives with original design specifications, maintenance records and operational histories, which have been through a 275-point inspection process.
The Genesee & Wyoming deal includes an extended warranty.
'These engines will make our fleet more efficient, enabling us to better meet our customers' needs for safe and reliable freight-rail transportation', said Michael Miller, President of G&W's North American operations. 'These locomotives will generate lower emissions to help both us and our customers achieve our ESG goals.'
The latest order 'demonstrates the value of our certified pre-owned programme to the short line market', said Alicia Hammersmith, President of Wabtec Global Freight Services. 'Certified pre-owned locomotives provide G&W an affordable way to upgrade its fleet while improving performance, reliability and fuel efficiency as well as reducing carbon emissions.'