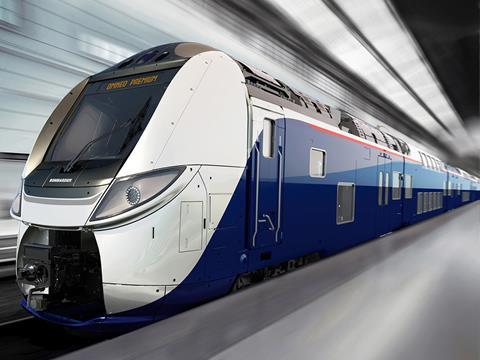 FRANCE: Acting on behalf of the Hauts-de-France region, SNCF has awarded Bombardier Transportation a firm order to supply 19 Omneo Premium double-deck inter-city electric multiple-units.
The order announced on November 19 has been placed within a 2010 framework covering up to 860 Omneo/Regio 2N units and is valued at €256m, including 'price escalations based on best faith assessment of assumptions', Bombardier said.
The 135 m long units are to be delivered from Bombardier's Crespin plant from 2022 for use on the Paris – Amiens and Paris – Saint Quentin – Maubeuge/Cambrai routes.
The interiors will feature 463 'wide' seats with integrated lighting, power and USB sockets, a dedicated area for two wheelchairs and space for 12 bicycles. The interior layout and colour scheme will be developed in conjunction with the region.
A total of 401 Omneo/Regio 2N trainsets have now been ordered for 10 French regions.