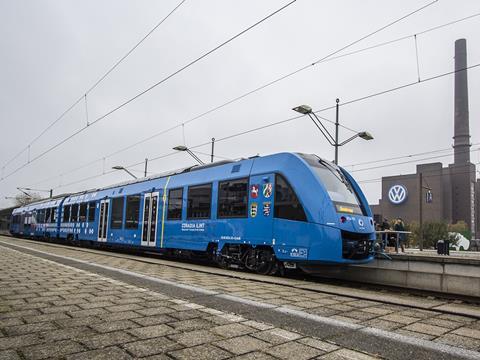 UK: The Rail Safety & Standards Board is working with Alstom with the aim of piloting a hydrogen powered train in late 2019 or early 2020, RSSB Chief Executive Mark Phillips said on February 12.
Philips was responding to a speech by Transport Minister Jo Johnson, who said he 'would like to see us take all diesel-only trains off the track by 2040'. Johnson said the government was committed to ending the sale of petrol and diesel cars by 2040, and 'if we can achieve that, then why can't the railway aspire to a similar objective?'
Johnson said 'total electrification of our tracks is unlikely to be the only or most cost-effective way' to secure environmental benefits. He said electro-diesel bi-mode trains, such as those being supplied by Hitachi under the Intercity Express Programme, were 'a great bridging technology to other low emission futures', and he expects improvements in battery technology to lead to the replacement of the bi-mode fleet's diesel engines.
Johnson said he would 'like to see hydrogen train trials on the UK railway as soon as possible', and hydrogen offers an 'affordable' and 'potentially much cleaner' alternative to diesel. The Alstom iLint multiple-unit in Germany 'only emits steam and condensed water, yet is capable of 140 km/h and a range of up to 800 km', he said, and Rolls Royce was also looking at similar technology.
Johnson has asked the rail industry to provide by the autumn 'a vision for how it will decarbonise', analysing options such as the use of lighter rolling stock and alternative sources of power. Johnson said the government would also set 'tough new environmental performance goals' in franchises.
Responding to Johnson's speech, Porterbrook Leasing said it was 'already actively engaged with its customers, the railway supply chain and other sectors to identify alternative power sources for trains operating on non-electrified routes.'
Rail Freight Group Executive Director Maggie Simpson sounded a note of caution, saying that whilst battery and hydrogen 'may show promise for lightweight passenger trains, their application for heavy duty freight is at best unproven, and setting an arbitrary deadline of 2040 could well therefore be counterproductive, damaging the case for investment'. RFG would like to see the remit of the Office for Low Emission vehicles extended to cover all freight modes, retrofit grants for buses and other road vehicles extended to railways, and the 'continued affordable electrification of the strategic freight network'.
Dr Jenifer Baxter, Head of Engineering at the Institution of Mechanical Engineers, said the transition to a low carbon transport network would require a mix of technologies and policies. Bi-mode trains 'have higher capital and maintenance costs than pure electric trains', Baxter said, 'and as they are heavier they also emit even more emissions than diesel trains, when operating in diesel mode.'
Referring to the Department for Transport's scaling back of Great Western and trans-Pennine 25 kV 50 Hz electrification plans, Mick Cash, General Secretary of the RMT trade union, said 'if you were serious about cracking on with the phasing out of diesel trains you wouldn't be scrapping key electrification projects which will mean the commissioning of more diesel operated fleet'.
A comprehensive review of hybrid train and fuel cell initiatives around the world appears in the February 2018 issue of Railway Gazette International magazine, which subscribers can access in the digital archive.