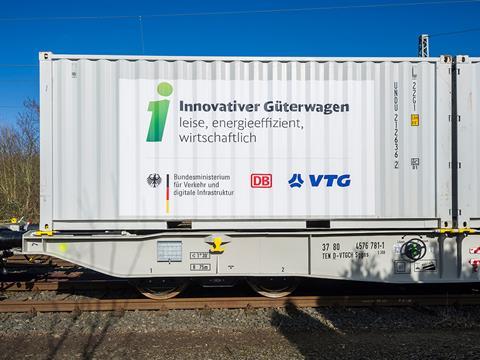 GERMANY: DB Cargo and VTG have presented Germany's Minister of Transport & Digital Infrastructure Andreas Scheuer with the initial findings of a government-backed project which was launched in October 2016 to develop and test quieter, more energy efficient and more cost-effective wagons.
The government is providing €18m for the project, with the consortium of the operator and leasing company covering the €6m cost of procuring the vehicles and components
The trials are using 12 wagons of four types: BraCoil Saghmmns-ty six-axle flat wagon, Sggnss 80 ft container wagon, Zacens tank wagon and Laaeffrs 561 twin-section car-carrying wagon. The wagons incorporate lightweight components and are designed to accommodate digital telematics equipment.
The vehicles have now covered around half of the 150 000 km which they are scheduled to run during endurance testing which began in March.
'In the future, rail-borne freight traffic can be quieter, more energy-efficient and more cost-effective', said Scheuer on August 14, adding that this would be 'an important step toward getting more goods on the rails, while raising overall acceptance of rail freight transportation in general'.
VTG CEO Heiko Fischer said the project was 'already demonstrating the huge potential of rail freight transportation when all stakeholders pull together'. He highlighted trials with automated brake testing, which could save about 30 min per train on dispatch handling.
One of the wagons being tested is a multifunctional flat wagon designed to be able to carry steel plate to rolling mills and then take finished coils to customers. 'Instead of needing two wagon types, we can now make do with one', said Alexander Doll, DB management board member for Freight Transport & Logistics. 'And thanks to a lightweight design inspired by the aircraft construction industry, we are also saving energy.'