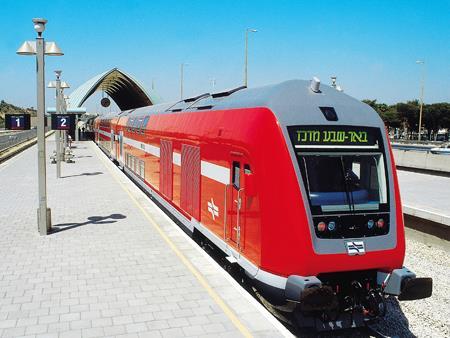 ISRAEL: National railway ISR has issued a request for information about the potential supply of electric locomotives and multiple-units for its electrification programme.
The first phase of the programme covers wiring around 420 km of existing and planned line at 25 kV 50 Hz. This includes the future 23 km 'Akko - Karmi'el line and the Tel Aviv - Jerusalem fast line which are both under construction.
As well as needing an estimated 80 electric locomotives for push-pull operation with its existing Siemens single-deck and Bombardier double-deck coaches, ISR is expecting to procure 60 double-deck electric multiple-units capable of working in three-car, six-car or longer formations. The locomotives would be required from the end of 2016, and the EMUs from early 2017.
ISR said it intends to procure proven and 'off the shelf' stock meeting UIC and EN standards. The vehicles would need to be capable of 160 km/h operation and able to cope with gradients up to 3%, with a target journey time of 27 min from Tel Aviv to Jerusalem. They must also be suitable for use in long tunnels and in ambient temperatures of up to 47°C. ISR would also be interested in the manufacturer undertaking maintenance as an option on the procurement contract.