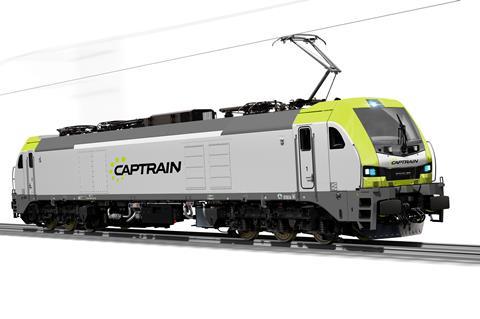 SPAIN: Captrain España has become the launch customer for Stadler's Euro 6000 six-axle multi-system electric locomotive design, signing a framework contract with leasing company Alpha Trains for up to 21 locos.
The contract announced on July 7 includes a firm order for an initial 11 locos to be delivered from Stalder Rail's Albuixech plant in Valencia during the second half of 2021.
Five will be 1 435 mm gauge locomotives certified for operation in Spain, France and Luxembourg. These are intended for hauling trains on the North Sea – Mediterranean, Mediterranean and Atlantic TEN-T corridors from Barcelona, Tarragona and, subsequently, Valencia and Bilbao.
The other six will operate on the 1 668 mm gauge network in Spain, hauling heavy freight trains on electrified routes, in particular through the Pajares base tunnel which is being energised at 25 kV 50 Hz rather than the usual 3 kV DC.
Alpha Trains said the order had been the outcome of close co-operation over a 'substantial period' between the engineering teams of Stadler Valencia, Alpha Trains, Captrain España and the operator's parent company SNCF.
This enabled the design of a locomotive that would allow the haulage of heavy freight trains of more than 1 800 gross tonnes on the 1 435 mm gauge Mediterranean Corridor currently under development. This corridor will feature three different electrification and three signalling systems, while the combination of fast passenger and heavy freight trains will impose 'very demanding' operational constraints, Alpha Trains said.
The locos will be rated at 6∙2 MW when operating from 25 kV AC and 3 kV DC power supplies, and at 4∙1 MW at 1∙5 kV DC.
'With this decision, SNCF is showing its willingness to be a pioneer in the development of traffic between Spain and Europe; traffic with enormous potential that the railway must begin to capture from now on', said Frédéric Delorme, CEO of SNCF's Freight & Intermodal Business. 'Rail freight has a very small share in Spain; we are convinced that this is a significant step to start increasing it in the cross-border traffics through the Pyrénées'.
The Euro 6000 is part of Stadler's Eurodual family, of which 79 locomotives have now been sold in diesel, electro-diesel and now multi-system electric configurations for operation in Spain, France, Belgium, Germany, Sweden, Norway and Turkey.
The latest order supports Stadler's ambitions to become a significant player in the main line electric sector, which Alpha Trains estimates as 90% of the total locomotive market in western Europe.
'This contract means the successful culmination of the innovation project started few years ago to diversify our range of locomotives, migrating from the diesel-electric to the bimode until arriving at a full electric locomotive', said Iñigo Parra, President of Stadler Valencia. 'The success of our locomotives is based on their high performance and the flexibility they offer to rail operators in covering transport operations in an efficient and sustainable way.'
In 2008, Captrain España (then Comsa Rail Transport) and Alpha Trains were launch customers for the Euro 4000 diesel locomotive design, of which more than 130 have now been delivered. In 2018 Alpha Trains acquired nine Euro 4001 locomotives to operate in France and Belgium.