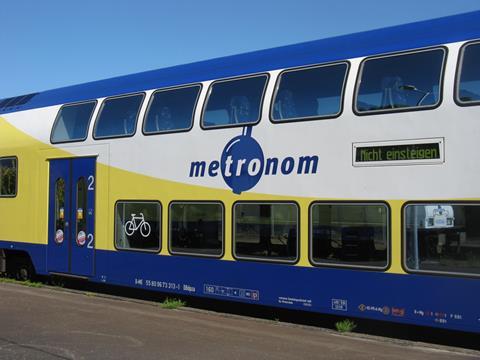 GERMANY: Niedersachsen transport authority LNVG has awarded manufacturer Bombardier Transportation a €80m contract to modernise a total of 51 double-deck coaches and 37 Traxx electric and diesel locomotives.
The work is to be undertaken at Bombardier's Hennigsdorf and Kassel plants, with an initial 11 pre-series vehicles to be completed by the end of 2020 and the rest of the fleet by early 2026.
Under the mid-life refurbishment the push-pull driving cars will be fitted with a family compartment and additional wheelchair spaces, while 10 coaches will have the first class seating replaced with second class, providing 38 more seats per trainset. Seats and flooring will be renewed, the toilets made more vandal-resistant, and wi-fi, real-time passenger information systems and CCTV installed.
LNVG plans to call tenders next year for the refurbishment of a further 169 double-deck coaches by 2026.