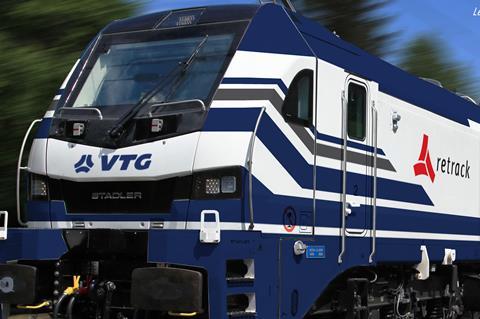 EUROPE: VTG Rail Logistics subsidiary Retrack has signed a long-term full-service leasing contract with European Loc Pool covering up to four Stadler EuroDual six-axle electro-diesel locomotives.
To be delivered from Q1 2021, these will be rated at 2·8 MW in diesel mode and 6 MW in electric operation.
Announcing the contract on October 12, VTG said the locomotives would be able to haul trains up to 740 m long, and 30% heavier than trains hauled by the electric and diesel locos currently in use on the main Retrack corridors. First and last mile operation is becoming increasingly important for Retrack's customers, and the new locos would also help reduce emissions by enabling electric operation where possible.
European Loc Pool has now placed firm orders for 50 locos since being established by Reichmuth & Co and PCS Holding in 2018. It ordered 10 EuroDuals in Q3 2018 which entered service from April 2019, and has signed a framework agreement for 100 six-axle locos, placing firm orders for 30 EuroDual locomotives and 10 Euro9000 locomotives in Q2 and Q4 2019 and Q3 2020.
Of the 50 locomotives which have now been ordered, 10 customers in four countries have signed long-term leases for a total of 32.
ELP is the launch customer for the Euro9000, which is intended as a multi-system locomotive for use on European corridors through multiple countries. The first variant rated at 1·9 MW with diesel power and 9 MW using electric power will initially be approved for operation in Germany, Austria, Switzerland, Italy, the Netherlands and Belgium from the end of 2022. The first of 10 locomotives from the initial order placed in May 2019 is scheduled to be displayed at the InnoTrans 2021 trade fair in Berlin next year.