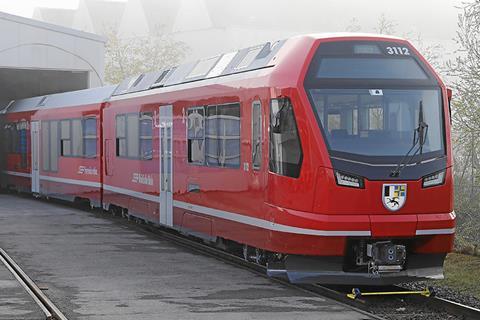 SWITZERLAND: Rhätische Bahn has placed a SFr172·9m firm order for Stadler to supply a further 20 four-car Capricorn electric multiple-units.
The order announced on June 12 has been placed using an option on a SFr361m contract for an initial 36 of the 11 kV 16·7 Hz EMUs which was placed in 2016. The first of these was unveiled in April last year and six have now been delivered with entry into service expected this year.
The 120 km/h metre-gauge units are 76·4 m long and 2 670 mm wide, with 164 seats including 35 in first class. Three of the four cars have low-floor entrances, and they have tactile signs and wheelchair spaces while one of the two toilets is wheelchair-accessible.
The passenger information system includes a stream of the driver's view on internal display screens.
The EMUs have automatic couplers to enable the splitting and joining of units in service to provide 30 min headways on single-track routes.