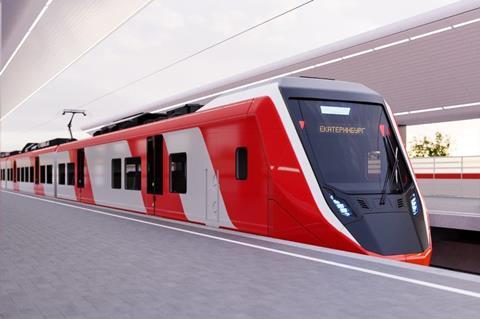 RUSSIA: Russian Railways has awarded Sinara Transport Machines a contract to supply 22 five-car electric multiple-units to the ES104 Vostok design, which has been developed as the basis for a family of trains using domestically-produced components.
The ES104 is intended as a successor to the Lastochka (Desiro RUS) EMUs, developed by Ural Locomotives, which was Sinara's joint venture with Siemens Mobility until the German company exited the Russian market in following the launch of the full-scale war against Ukraine.
Designed for operation at up to 160 km/h, the ES104 will be fitted with Russian-made traction equipment for rapid acceleration and regenerative braking.
A five-car unit will have 401 seats with USB chargers. There will be large luggage racks, climate control and air disinfection systems, wheelchair lifts and toilets with changing tables.
Deliveries from the Ural Locomotives plant are scheduled to begin in November, with the first sets to be deployed in the Sverdlovsk region.
'We faced the task of developing a new model of electric train consisting of Russian-made components', said Ural Locomotives CEO Oleg Spai. 'We managed to accomplish this task to design and manufacture the train in one year, improving the technical characteristics and comfort conditions for passengers. The assembly of the first unit is at the final stage, and testing will commence in a month.'