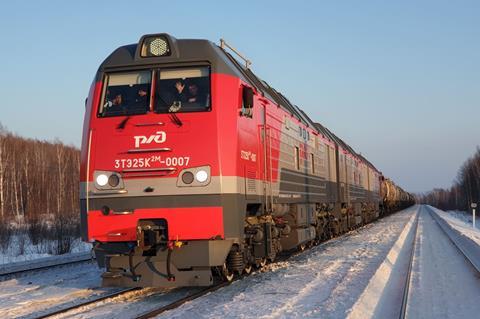 RUSSIA: Transmashholding's Bryansk works has delivered 12 three-section 9·3 MW locomotives, which the manufacturer says are the most powerful diesels in the 1 520 mm gauge region.
The 3TE25K2M has been developed from the 2TE25K Persvet twin-section design, of which 502 have been produced since 2005. The first two 3TE25K2M locos were completed in 2017, and testing was completed in October 2019.
They have AC-DC transmission and are designed for the harsh weather conditions experienced in the far east of Russia. Two, three and four-section variants are offered.
Following a formal handover ceremony in Komsomolsk-na-Amur on January 20, Russian Railways has deployed the locomotives to haul 7 100 tonne freight trains on the non-electrified section of the Baikal – Amur route between Taksimo and the port of Sovetskaya Gavan-Sortirovochnaya.
Oleg Valinskiy, head of RZD's traction department, has said the operator intends to completely renew the Trans-Siberian and BAM locomotive fleets by 2025.