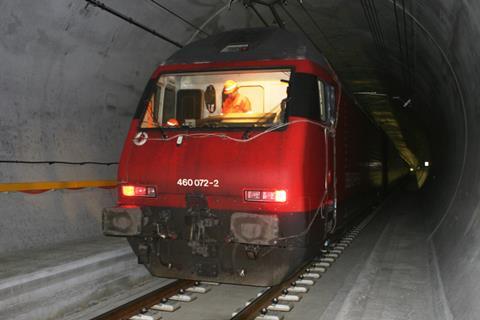 SWITZERLAND: Swiss Federal Railways is embarking on a major programme to modify long-distance rolling stock for operation through the Gotthard base tunnel, the company announced on April 30. In addition, it is launching an extensive staff training programme to prepare for the start of operations on December 11 2016.
Announcing the various measures at Olten, SBB said the main changes to the rolling stock were needed to improve fire safety and install cab signalling, as the base tunnel is being equipped with ETCS Level 2. However, the railway emphasised that the safety and operational benefits would be enjoyed across the whole country and not just through the tunnel.
SBB says its Alstom-built ETR 610 Pendolino trainsets used for international services over the Gotthard corridor were already equipped by the manufacturer before delivery. However, retrofitting will be required for 18 ICN tilting trainsets, 13 Class Re 460 electric locomotives and 119 inter-city coaches used by the passenger business, plus 179 main line and 15 shunting locomotives for SBB Cargo. The modifications will be undertaken at SBB's workshops in Bellinzona, Biel, Yverdon-les-Bains and Olten, and are due to be completed by mid-2016.
According to SBB, the older trains do not meet all of the technical specifications for operation through the world's longest rail tunnel, notably regarding fire protection, the ability to keep running in the event of a fire and pressure sealing. To bring them up to the required standards, fire alarm systems and sensors will be installed, along with fire-resistant doors between the vehicles and foam extinguishers. At the same time, SBB is to install new air-conditioning equipment to improve the level of comfort for both passengers and train crew.
Other work to be undertaken before the Gotthard base tunnel opens for revenue service with the December 2016 timetable change includes the training of around 3 900 employees, infrastructure and station modifications at various locations between Brunnen and Castione in conjunction with the introduction of ETCS Level 2, and the commissioning of two electronic interlockings at Altdorf and Pollegio. New maintenance and intervention centres are being developed at Erstfeld and Biasca, where around 300 staff will be based to undertake maintenance and troubleshooting in the base tunnel.
SBB sees the opening of the Gotthard base tunnel as 'the most important milestone' in the upgrading of the north-south transalpine corridor, but says the full benefits will not be realised until the Ceneri Base Tunnel is completed in 2019, paving the way for the carriage of 4 m high loads from 2020. Between now and then, it says, another 25 projects must be implemented to upgrade the access routes to the two base tunnels from Basel in the north and Chiasso in the south. While finding time and space for these construction projects and rolling stock enhancements within an increasingly congested timetable will be a major challenge, SBB insists that will endeavour to minimise any impact on its customers.