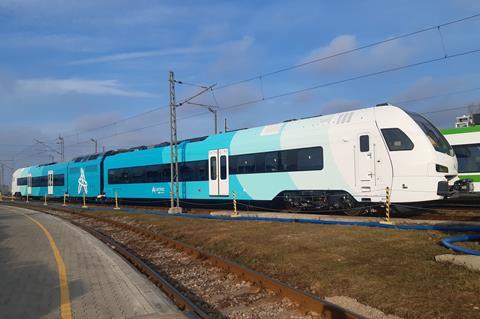 NETHERLANDS: The first Stadler Wink multiple-unit has been revealed. Following testing it is expected to arrive in the Netherlands this spring, with entry into service on Arriva's regional routes in Groningen and Friesland planned by the end of the year.
Arriva is the launch customer for Stadler's Wandelbarer Innovativer Nahverkehrs-Kurzzug ('convertible, innovative short train for local transport') for use on secondary routes in western and central Europe.
The configurable modular structure is based on Stadler's Flirt family, and the Wink was developed with the internal project name Flirtino. Like the GTW family, the Wink has a central power module containing the propulsion equipment. This allows it to be offered with a range of combinations of diesel, electric and battery power.
The sets ordered by Arriva for €170m in 2017 will be 55·5 m long, 2 820 mm wide and 4 120 mm high, with three doors per side and 135 fixed and 16 folding seats. They will be rated at 1 000 kW, with a maximum speed of 140 km/h. The interiors will have large windows, two quiet zones behind the cabs, a toilet, space for bicycles, pushchairs and wheelchairs, wi-fi and power sockets.
The Deutz engines will be fuelled with hydrogenated vegetable oil, with batteries to store regenerated braking energy so that engines can be switched off when standing in stations for extended periods.
Partial 1·5 kV DC electrification between Leeuwarden and Groningen is planned by 2025, when the engines could be replaced with larger batteries to provide power on the remaining non-electrified sections.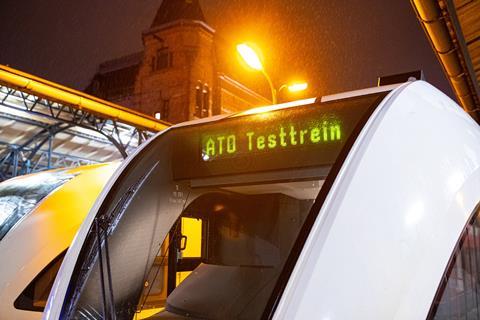 Meanwhile, selected passengers travelled on a Stadler GTW DMU using automated operation between Groningen and Buitenpost during five days of trials from February 12. The 50 passengers per day had to remain seated while travelling.
'The tests went very well', said Rik van den Band, ATO Project Manager at infrastructure manager ProRail. 'We are very happy with the enthusiastic participation'. Independent research agency TNO is now analysing feedback on human factors including acceleration and braking.