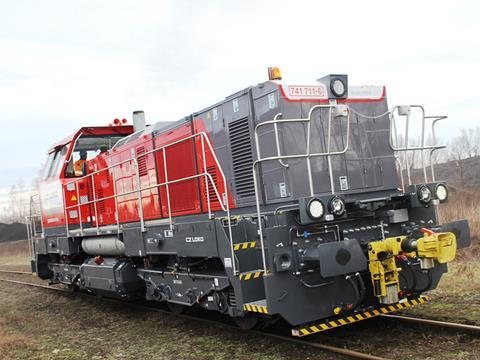 CZECH REPUBLIC: The first of 20 Class 741.7 diesel-electric locomotives which CZ Loko is to supply to the Czech Republic's largest steelworks this year under a 10-year leasing and servicing deal was handed over on January 28.
The ArcelorMittal Ostrava plant has 190 km of internal railway carrying 1·7 million tonnes/year. The Class 741.7 locomotives will replace a fleet of 28 diesel locos dating back to the 1970s and 1980s, improving safety, efficiency and environmental performance.
The Class 741.7 is a complete rebuild of the ČKD-built Class 740/742 four-axle design produced in the 1970s and 1980s. The 72 tonne Bo-Bo locomotives have Caterpillar CAT 3508C engines rated at 1 000 kW, AC-DC transmission, electronic controls and a maximum speed of 100 km/h.
Prototype 741.701 was leased by Unipetrol Doprava in 2009, and series production started in 2010. Four locos have been delivered to Viamont DSP (now Strabag), one to SD-KD and two for CZ Loko's own leasing pool. Two more have been supplied to Turkey's TCDD as Marmaray tunnel rescue locomotives.