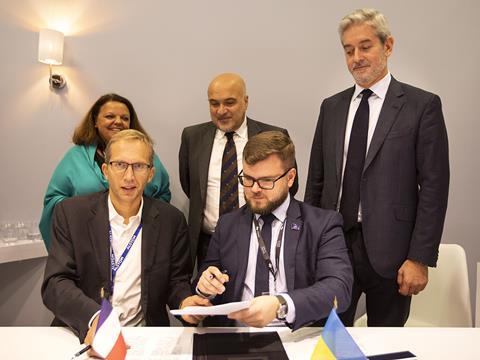 UKRAINE: Alstom and Ukrainian Railways have signed a memorandum of understanding for co-operation in the supply and maintenance of electric locomotives.
The MoU was signed at InnoTrans 2018 on September 19 by Yevgen Kravtsov, Acting Chairman of UZ, and Alstom Chairman & CEO Henri Poupart-Lafarge.
Traction renewal is a strategic priority for UZ, which estimates that it will require 495 new electric freight and passenger locomotives over the next 10 years, as well as maintenance and associated services for up to 25 years.
UZ has previously signed a similar partnership agreement with GE Transportation covering diesel locomotives.
'Almost 47% of Ukraine's railways have been electrified, but the goal is to increase the number of electrified areas up to 54% within two years', said Kravtsov. 'Co-operation with Alstom is also very important for us because the company has considerable experience in the manufacture of 1 520 mm gauge electric locomotives. Moreover, the possibility of maximum localisation at Ukrainian enterprises is an essential condition of the co-operation with Alstom.'