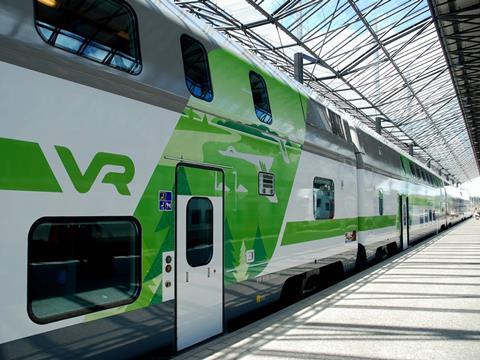 FINLAND: National operator VR has awarded Škoda Transportation subsidiary Transtech Oy a €50m order to supply a further 20 Type Ed double-deck coaches as an option on a contract signed in 2015. Production is scheduled to begin next year, for delivery in 2019.
Maisa Romanainen, Senior Vice-President of Passenger Services at VR, said ridership had increased by almost 10% this year, and by more than 20% on many main routes. While it was not practical to increase the capacity of the infrastructure, the capacity of trains could be increased.
The TSI-compliant aluminium-bodied Type Ed coaches have 113 seats and are designed for a maximum speed of 200 km/h. They have a high level of thermal insulation for operation in temperatures down to -35ºC, and the gangways are pressure tight for safe and comfortable movement between vehicles.
'Thanks to their comfort and reliability, the double-deck coaches from Transtech have become very popular among travellers', said Transtech CEO Lasse Orre when the order was announced on August 31. 'The vehicles feature a spacious and bright interior with a wide range of services on both floors. The bottom floor at the platform level also makes it easy to board the cars for passengers with reduced mobility.'
The first coaches from the double-deck family entered service with VR in June 1998, and more than 270 have now been delivered, according to Zdeněk Majer, Chairman of Transtech and Vice-President of Škoda Transportation.