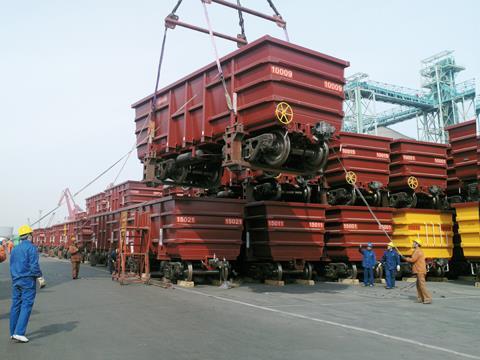 Africa: Ccecc is to supply four more CSR Qishuyan SDD20 diesel locos to Tazara under a US$12·45m contract signed in December. Tazara says six delivered last year are performing satisfactorily after 'teething challenges'.
Algeria: Faiveley and Compin have been selected for a €75m contract for the refurbishment of 202 passenger cars for SNTF over four years.
China: Knorr-Bremse has signed contracts worth €500m to supply braking equipment for 435 eight-car high speed trainsets to be built by three local manufacturers, with options for 100. Knorr-Bremse will also supply door systems for more than 200 trainsets and HVAC for 80.
CNR Corp has announced plans to produce a prototype 160 km/h diesel/electric/battery passenger trainset by September 2015.
Alstom and Shanghai Alstom Transport Electrical Equipment have been awarded a €33m contract to supply Optonix traction equipment for 246 CNR Dalian cars for Xi'an metro Line 3 and a €42m order covering 306 CNR Changchun cars for Chengdu lines 3 and 4.
The Transport Infrastructure Office has ordered an additional 48 Crystal Mover rubber-tyred light metro cars and associated maintenance equipment from Mitsubishi Heavy Industries and Itochu for use on the future Macau Light Rapid Transit line.
CNR Tangshan is to supply 28 six-car Type B metro trainsets for the Fuzhou metro, each with capacity for 1460 passengers. They will enter service on the metro when it opens in 2015.
Congo DR: CNR Beijing February 7th, Bank of Congo and a Chinese export consortium have signed a contract for the supply of 18 diesel locos for the World Bank-backed Multimodal Transport Project to restore the financial and operational viability of SNCC's 1 067 mm gauge network.
Denmark: Siemens completed the installation of GSM-R cab radios on the 135 København S-bane trains in December; each took less than 10 h including testing.
Europe: Hitachi's on-board ETCS equipment has been certified in accordance with the Control Command & Signalling TSI.
GySEV has placed a €30·7m order for five Siemens Desiro ML EMUs to be delivered by May 2016. They are required to be compatible with units previously ordered by ÖBB.
France: Paris regional transport authority STIF has agreed to fund 50% of the €900m cost of 43 additional Francilien EMUs for the SNCF suburban network and 48 Bombardier Régio2N double-deck EMUs to be deployed on services from Paris Lyon to Montereau and Montargis. SNCF is to provide the remainder of the funding for the new trains, to enter service in 2016-18.
On December 23 SNCF exercised an option for Bombardier to supply a further 30 Régio2N double-deck EMUs between June 2016 and April 2017. The €227m order is financed by the regions of Picardie, Midi-Pyrénées and Pays-de-la-Loire where they will be used.
EIB has signed a €120m funding agreement with Alsace covering the acquisition of 24 Alstom Régiolis EMUs for local TER services.
In December Alstom handed over the first of 15 Régiolis electro-diesel multiple-units ordered by SNCF at a cost of €148m. Funded by Basse-Normandie for use on the 328 km Paris – Granville route from mid-2014, the first six-car version of the Régiolis offers 326 seats and a high-quality interior for the 2 h 55 min journey.
Germany: Alstom and Škoda Transportation have formed a consortium to bid for the contract to supply and maintain double-deck EMUs for use on Rhein-Ruhr-Express services from December 2018 (RG 9.13 p7).
Kazakhstan: Promagroleasing is to supply Semipalatinsk Transport Co with 410 cement hoppers built at the Mogilev works in Belarus.
Macedonia: MZ Transport has awarded ZOS Trnava a €13·2m contract to supply 150 Sggrss-80 and Eass-Z-(K) wagons.
Poland: MZK Toru has awarded Pesa a 92·5m złoty contract to supply six 19 m three-section and six 30 m five-section low-floor trams between December 2014 and June 2015.
PKP Intercity has sold EU07 locomotives to Majkoltrans and Lozyw, two to DLA and four to PHU Lokomotiv.
Russia: TMH's Bryansk plant has obtained type approval for a pre-series batch of 24 2TE25AM diesel freight locos which will be supplied to RZD. These are based on the 2TE25 Vityaz design, but have MTU engines.
Slovakia: ZSSK has exercised a €77m option for eight Škoda Vagonka Class 671 three-car dual-voltage EMUs to be delivered by October 2015.
Sweden: SJ is to spend SKr3·5bn modernising its 36 SJ2000 tilting trainsets by 2019. ABB has a US$200m contract to supply new electrical equipment to reduce energy consumption by at least 10%, while improving performance and reliability.
UK: London Underground is to initiate a 'technical dialogue' with companies interested in the development of track maintenance and renewals vehicles for its small-profile tube lines.