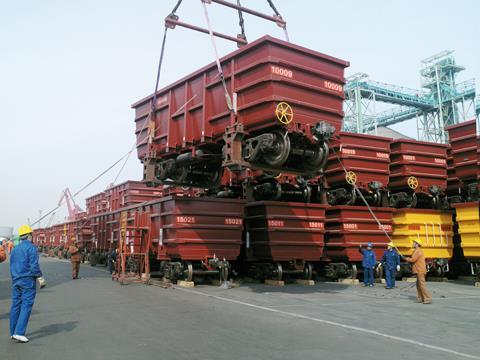 Algeria: CAF is to supply 12 six-car Inneo trainsets to the Alger metro.
China: The Bombardier NUG Propulsion System Co joint venture has won two contracts worth €68m to supply traction equipment for 600 metro cars for Chengdu metro Line 6 and 78 cars for Chongqing metro Line 4.
Czech Republic: CD has placed a KC239m order for 12 CZ Loko two-axle EffiShunter 300 shunting locomotives with 328 kW Caterpillar C13 Stage IIIB engines. Designated Class 794, they will be deployed at Bohumín, Olomouc, Hradec Králové, Plze, Brno and Praha to replace more powerful but expensive Class 714 locomotives.
Germany: DB Regio has ordered 57 Siemens Mireo three-car articulated 160 km/h EMUs for use on S-Bahn Rhein-Neckar services from December 2020. The contract has been placed using the 'Baden-Württemberg model' which will see DB transfer the EMUs to the Land then lease them back for the duration of the operating contract.
SWEG has awarded Alstom a framework contract for the potential supply of up to 50 DMUs for local services.
Abellio Rail Mitteldeutschland has awarded VIS Verkehrs Industrie Systeme a contract to maintain 54 Alstom Coradia Lint 41 DMUs for 14 years.
International: CRRC Datong has obtained safety certification enabling its second design of electric locomotive for Belarus Railways to be operated throughout the Eurasian Economic Union countries. The manufacturer said this was the first time a Chinese-built high-power AC traction electric locomotive had been certified for the EEU region.
Iran: Sinara is to supply 17 locomotives to Iran for €24m.
Japan: Hiroshima Rapid Transit Co has awarded Mitsubishi Heavy Industries a contract to deliver 11 six-car Automated Guideway Transit rubber-type trainsets for New Transit Line 1 (Astram Line) in 2019-25.
Luxembourg: Duro Dakovic Specijalna Vozila has won a 75m kuna contract to supply Zacns tank wagons to a customer in Luxembourg by the end of Q1 2018.
Malaysia: A consortium of CRRC Zhuzhou Locomotive Co, Siemens China and Tegap Dinamik is to supply 42 six-car driverless light metro trainsets for the LRT3 project in Kuala Lumpur under a 1·56bn ringgit contract.
Poland: Pesa was the sole bidder in a tender to supply up to 15 trams to Czstochowa. It offered 89·9m złoty for the base order of 10 trams, deliveries of which are due to be completed in 2020.
Pesa has submitted the best offer to supply trams to Kraków. The company bid 299·2m złoty for the base order of 35 trams. The contract includes options for up to 15 more, which would have an estimated value of 128·3m złoty if exercised.
Modertrans submitted the cheapest bid to supply 40 trams to Wrocław. Modertrans' offer of 176m złoty for the 27% low-floor Moderus Beta compared with a bid of 324m złoty from Pesa, which offered its 100% low-floor Twist.
Newag has signed a 95m złoty contract to rebuild a further 10 PKP LHS ST44 (M62) 1520 mm gauge diesel locos to the 311Da design by the end of 2018.
PKP IC has awarded Pesa and ZNTK Misk Mazowiecki a 312m złoty contract to modernise 83 coaches with options for 42 more, FPS a 273m złoty contract covering 60 coaches and Wagon Opole a 38m złoty contract covering 60 coaches.
Russia: Magnitogorsk Iron & Steel Works has taken delivery of three Sinara Lyudinovsky TEM9 locomotives with 1200 hp DG-880L engines and AC-DC transmissions.
TikhvinSpetsMash is supplying sodium sulphate producer Kuchuksulphat's transport business Kuchukterminal with 20 Type 11-6874 covered vans designed to carry packaged and bulk loads for the chemical, glass, pulp and paper sectors. They have 25 tonne axleload bogies and offer a maximum capacity of 73 tonnes or 175 m3, a 7% increase on older designs.
Rostec and Russian Railways have agreed to form a working group to implement a long-term strategy for the supply of modern designs of wagons and associated maintenance facilities.
TMH Bryansk has completed acceptance testing of a prototype TEM28 six-axle heavy shunting locomotive. The modular design is expected to increase haulage capacity by 50% and reduce fuel consumption by 25%.
RM Rail has delivered 200 Type 13-1258 flat wagons to Federal Freight Co.
Magnitogorsk city transport operator Maggortrans signed a hire purchase contract for covering the supply of 15 trams on August 9. Roscosmos subsidiary United Missile & Space Corp which owns UKVZ was the sole bidder in the tender to supply 16·4 m long unidirectional partly low-floor trams. The leasing deal entails advanced payment by the purchaser of 22·28m roubles, followed by 36 monthly instalments of 8·04m roubles from January. Deliveries are due by May 2018.
PK Transportnye Systemy was the sole bidder for a contract to supply a further 13 trams to Rostov-na-Donu, offering City Star vehicles for 426·4m roubles.
Sweden: Stockholm transport authority Storstockholms Lokaltrafik has exercised an option for a further eight CAF trams.
Switzerland: Stadler has announced Smile (Schneller Mehrsystemfähiger Innovativer Leichter Expresszug, or fast multi-system innovative light express train) as the brand name for its EC250 high speed train design, known as Giruno by SBB.
Ukraine: Refrigerator Wagon Co has produced a military escort coach by rebuilding a refrigerated van. Intended to be better suited to the military role than the 102 conventional coaches which UZ currently deploys on such trains, it has bunk beds, a kitchen, toilet, shower, washstand and heating for use in winter, as well as facilities for the secure storage of weapons.
UK: Beacon Rail Leasing has purchased the Bombardier Class 220 and Class 221 Voyager multiple-unit fleets from Lloyds Bank and Royal Bank of Scotland. Debt financing was provided by Credit Agricole Corporate Investment Bank and ING Bank.
Uruguay: Freight operator SELF has awarded GE do Brasil a contract to overhaul four C18-7i diesel locos.