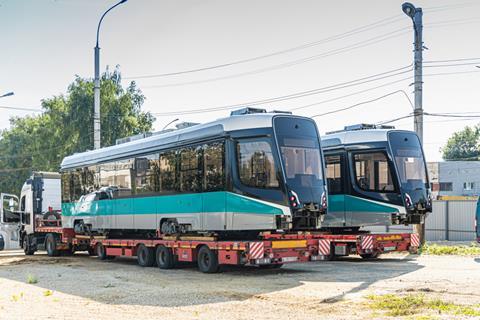 RUSSIA: Tram manufacturer UKVZ has delivered the first two of 46 vehicles being supplied to Lipetsk as a part of a project to upgrade and expand the network.
The modernisation is being undertaken by Movista Regions under a 20-year PPP agreement signed in 2022.
State development body VEB.RF is providing 9·3bn roubles to support the programme, including financing from the National Wealth Fund, with 674·5m roubles allocated for the first 28 trams.
The 1 524 mm gauge low-floor trams being supplied by UKVZ have a capacity of 150 passengers, and are fitted with air-conditioning, USB charging points and wi-fi.
The manufacturer is scheduled to deliver 26 trams by the end of this year, with six expected to be in service on the rebuilt route from the depot to the 21 Mikrorayon terminus. All 46 trams are due to be delivered by the end of 2025.