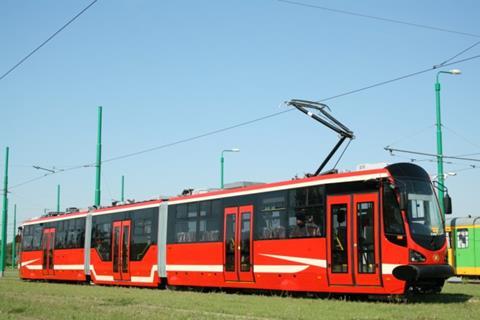 POLAND: The first Moderus Beta tram that Modertrans is supplying for the network centred on Katowice is undergoing testing, with delivery to Tramwaje Śląskie expected later this month.
Modertrans was awarded a 58·3m złoty contract in 2014 to supply 12 trams. The procurement forms part of the second stage of the 'modernisation of tram and trolleybus infrastructure in the Upper Silesian Agglomeration' project, which is co-financed by the EU.
The three-section bidirectional trams are designated Moderus Beta MF 16 AC BD. Capacity is 198 passengers including 46 seated, and the trams include a low-floor middle section 350 mm above the rail that covers 26% of the tram.
Eight AC traction motors give a combined output of 400 kW. The trams feature a wheel lubrication system to enhance passenger comfort, as well as four 38 in passenger information screens and a data recorder.
Tramwaje Śląskie says that work on the remaining 11 trams is 80% complete, and expects deliveries to be completed by the end of October.